Province Unveils New Roadmap – Re-opening Amenities and More
Ontario unveiled a new three-step roadmap, tied to vaccination rates, to reopen the province.
Here's what the plan looks like: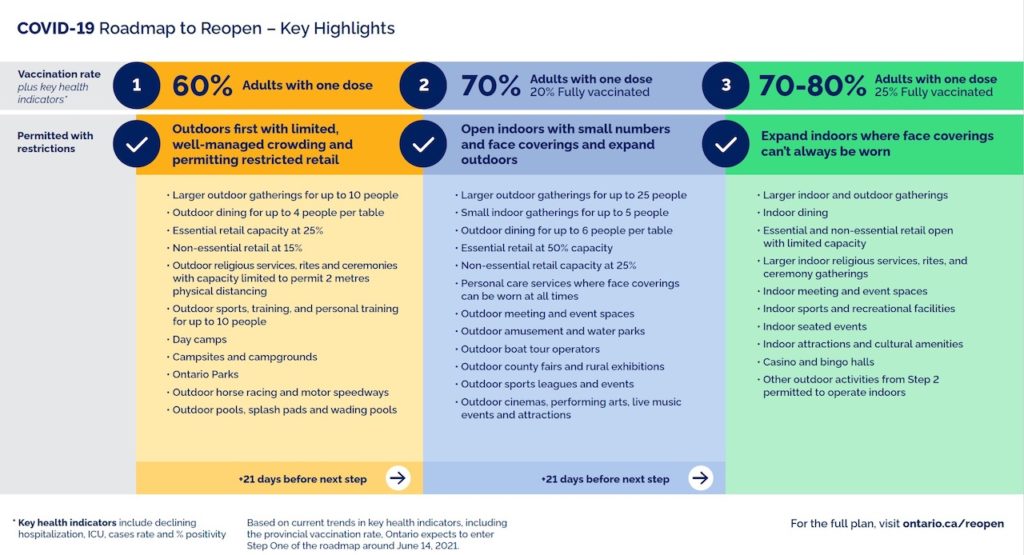 While we still have a wait ahead of us before we'll see the province enter stage 1, which is estimated to start around June 14, 2021, some exciting progress is being made this weekend.
The following outdoor amenities are permitted to open as of Saturday, May 22, 2021:
Golf courses & frisbee golf
Parks & recreational areas, including playgrounds
Baseball diamonds/batting cages
Soccer, football, and sports fields
Basketball & tennis courts
BMX & skate parks
Cycling tracks and bike trails
Horse riding facilities
Shooting ranges
Ice rinks
Boat and watercraft launches
Archery ranges
Reminder to our readers: Just because you can doesn't mean you have to.
A word of caution offered previously when restrictions were loosening remains applicable here: condominium communities need to remain vigilant. Whether it is safe to reopen amenities in a particular condominium must be considered on a case by case basis, in light of the circumstances of a particular condominium.
If you do decide to reopen, make sure proper protocols are followed.
If it is safe to proceed with reopening the amenities listed above in your community, remember that proper health and safety protocols must be followed, including wearing masks, maintaining social distancing, and other safety measures.
We'll be sure to keep you updated as we learn more about this new framework.
Stay safe and stay tuned to Condo Law News to keep up to date on the latest developments on reopening Ontario!
---